Tanzania peoples Defence force Jet was seeen landed in Zanzibar which made many resident terrified and did not believe the miltary is involved in the election rigging.to keep ruling party in power.People are getting used intimidated by police not Military.

On the semi-autonomous archipelago of Zanzibar, the announcement of the election was temporarily suspended after soldiers stormed the collation centre, eventually evicting journalists and observers.
The opposition Ukawa coalition on Zanzibar had already expressed concerns about the results announced so far.
Residents on the islands also voted for their own president and members of the Zanzibar parliament on Sunday.
---
At the scene: Sammy Awami, BBC Africa, Zanzibar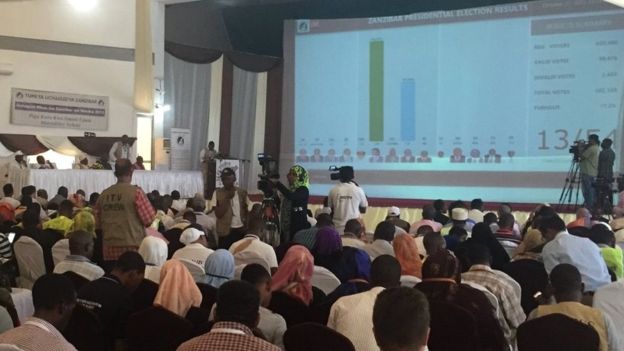 About 70 armed soldiers invaded the compound of the electoral commission and locked journalists, local and international observers inside the main hall.
Officials also stopped announcing results.
The soldiers ordered all of us to stay where we were and when I tried to ask them why, they told me not to approach them or question them.
After more than three hours, they allowed us to leave the electoral commission premises and told us not to come back until further notice.
Electoral officials reconvened and decided to postpone any further announcements until Wednesday.
---
CUF, one of four parties which make up Ukawa, accused the Zanzibar electoral commission of only releasing results from constituencies where the CMM candidate won.
On Monday, Ukawa candidate Seif Sharif Hamad declared himself the winner of the Zanzibari presidential poll.
Correspondents say tension has been rising on the islands ahead of the final results.
Previous elections have turned violent on Zanzibar, which is made up of the islands of Unguja and Pemba and is a popular with tourists.
Baada ya Tume ya Taifa ya Zanzibar kutoa matokeo ya Majimbo mengine 18 na kufanya Majimbo 31 waliyotangazwa matokeo, walisema watarudi tena saa 2 usiku !
Baada ya watu wengi kutoka Nje, ghafla muda huu Majeshi wako Mlangoni na aliyeko Nje ni Nje na aliyeko ndani ni ndani, hata uwe na ID yoyote basi huwezi kukaribia Mlango wa Bwawani sasa !
Tuombe kheri na salama na tumalize kwa amani, haki itendeke na Zanzibar njema yenye neema kila mmoja aombe kwa imani yake na wasaa wake...In Shaa Allah kheir !
---
Tanzania's tightly contested election: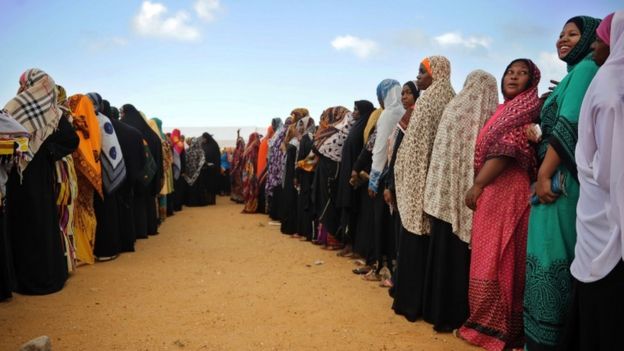 CCM was formed in 1977 from a merger of two post-colonial parties and has effectively been in power since independence in 1961.
It has fielded Works Minister John Magufuli, 55, as its presidential candidate.
He is being challenged by Edward Lowassa, 62, who quit CCM after he failed to win its presidential nomination.

He is contesting the poll under the banner of the Ukawa coalition.