Liberian ex-President Ellen Johnson Sirleaf dedicates $5M prize to women's empowerment.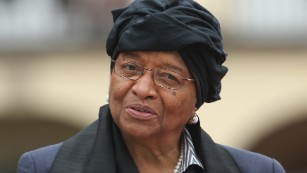 Ellen Johnson Sirleaf has been awarded a $5 million prize for excellence in African leadership and said she will use it to establish a centre for women's empowerment. Sirleaf, 79, stepped down as president of Liberia early this year after two terms in office.
Former Liberian President and Nobel Peace Prize laureate Ellen Johnson Sirleaf on Friday accepted a $5 million prize for excellence in African leadership -- and said she'll use it to establish a center for the empowerment of women.
Sirleaf, the first woman to be awarded the Mo Ibrahim Prize, gave her acceptance speech on the opening night of the Ibrahim Governance Weekend in Kigali, Rwanda.
We must tackle the historical disadvantages which have made women political outsiders," said Sirleaf, who was Africa's first democratically elected woman president. "It is my hope that women and girls across Africa will be inspired to break through barriers and to push back the frontiers of possibilities."
She was met with a standing ovation from leaders across Africa, who will spend the rest of the weekend in discussions about how to tackle the continent's challenges as part of the Ibrahim Forum. This year's forum focuses on public service.
This episode prompted debate of when and where Africa's next female president would be elected. Since Ameenah Gurib-Fakim resigned from the presidency in Mauritius, Africa has had no female head of state or government.
Sirleaf thanked the foundation for emphasizing Liberia's democracy under her administration which led to a transition of power in the West African country in January.
"My most proud accomplishment is that after decades of violent conflict, the power in Liberia today rests where it should. With the people, grounded in the rule of law and upheld by institutions," she added.
Ibrahim, a Sudanese-born telecommunications businessman and billionaire, created the foundation bearing his name in 2006. It uses 88 criteria to rate the governance of African countries.
The $5 million prize is distributed over 10 years, and winners receive $200,000 every year for life thereafter.
The prize had not been awarded since 2014 because no eligible or worthy candidate was identified. The last one was given to former Namibian President Hifikepunye Pohamba. Five people, including Sirleaf, have won the prize.
Namibia is a possibility. According to Africa Confidential, Netumbo Nandi-Ndaitwah, foreign minister and vice president of the ruling party, is "perfectly positioned to become the next head of state at the end of President Hage Geingob's second term in 2025, or earlier, should his health fail." (Geingob is 76; three years ago his personal physician
he was the "healthiest 47-year-old" he had ever seen.)
Malawi is another contender. Former president Joyce Banda
this weekend after a four-year self-imposed exile. She lad left Malawi in 2014 after losing an election to current president Peter Mutharika, in the wake of the so-called Cashgate corruption scandal. Local media have reported a possible deal between Mutharika and Banda ahead of next year's elections.
Beyond that, it is difficult to see other clear possibilities. Africa currently has four women deputy or vice presidents: Tanzania (Samia Suluhu), The Gambia (Fatoumata Tambajang), Liberia (Jewel Taylor) and Zambia (Inonge Wina). In theory, they are second-in-command in their respective countries, but in terms of actual political power, the picture is very different. In much of Africa, women tend to get stuck in the "deputy" role; there is now broader consensus for women in leadership, but party machinery in most countries is not willing to propose a woman for the top job. And even when women do ascend to leadership, it tends to be in an appointed role.
Sirleaf's 2006 election as Africa's first female president provides some clues on the context that breaks barriers for women. One of them is conflict. Societies that have gone through the devastation of war are often more willing to experiment with the more stereotypically peaceful and less militaristic approach associated with female leadership.