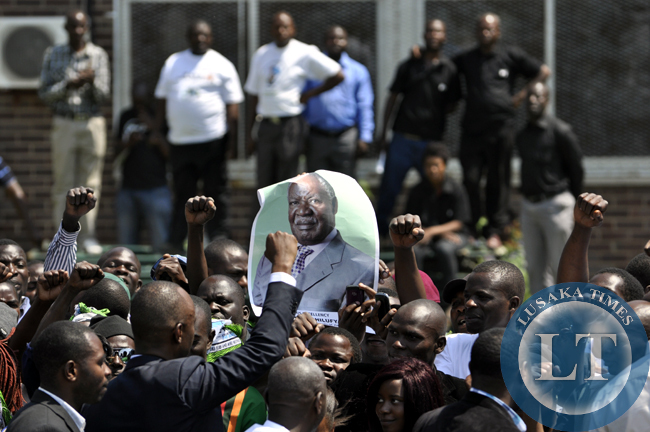 ZAMBIANS in the United States of America (USA) over the weekend held a memorial church service in honour of the late President Sata.
Zambians in Washington DC, Maryland and Virginia converged on St Mary's Seminary where a memorial mass was conducted and presided over by Father Victor Mwanamwambwa.
This is according to a statement issued in Lusaka yesterday by First Secretary for Press and Public Relations at the Zambian Embassy in Washington DC, Patricia Littiya.
Speaking in a homily, Father Shoba Nyambe urged Zambians in the USA to remember what Mr Sata stood for, especially for the poor.
And Charge D'Affaires at Zambia's Embassy in Washington DC, Joseph Chilaizya, commended the Zambian community for holding a remembrance service for President Sata, who will be buried today at Embassy Park.
Mr Chilaizya in his eulogy asked the Zambian community in the USA to emulate President Sata by uniting to develop the country.
"President Sata brought unprecedented development in the three years he was in office because he had a heart for the people of Zambia," he said.
And a leader of the Zambian community and senior pastor of Agape Word Center Church International Nkhosana Chongo called on the Zambian community to be united and to pray for the country.
Some Zambian believe King cobra sold the country to Muzungu or White man ,
Zambia is a failed country. Fifty years after kicking out the British, we have a white president! D.
efence minister Edgar Lungu was acting president but he has been made to step aside for Scott.
According to information received Guy Scott, with the help of Fred M'membe, the owner of Post newspaper, simply told the attorney general to go and tell other ministers that he is now the president.
Edgar Lungu has since accepted to step aside.
Lungu called a cabinet meeting at 05 hours, all cabinet ministers turned up but Scott was not in attendance.
Attorney-General Musa Mwenye went into the meeting last and just announced that Guy Scott has taken over as president. Mwenye was under heavy police escort.
Guy Scott was born June 1, 1944 and is believed to be suffering from advanced Parkinson Disease. He denies it angrily. The fight of power inside Sata party A
cting President Guy Scott only agreed to reinstate Edgar Lungu after he fired him after being blasted by Zimbabwean leader Robert Mugabe. Government sources says Mugabe phoned Scott Tuesday morning and told him that "Allow us to mourn our Comrade with dignity and peace." And government sources say Zambia's diplomatic security rating in the last two days changed from.
Police last night attempted to arrest Defence and Justice Minister, Edgar Lungu. Following the dismissal by acting president Guy Scott. Meanwhile, Edgr Lungu has rejected the dismissal by Scott saying the acting president has no powers to dismiss him. Numerous senior members of the party, who gathered at St. Ignatius Church for a special church .
Mulenga Sata, the son of late president Michael Sata, says he is interested in succeeding his father just after the funeral. And Mulenga Sata says vice-president Guy Scott is out of the race. Mulenga told journalists at the airport when the body of his father arrived that he does no see any reason why he can not be the next President.C
ommerce minister Bob Sichinga has been caught telling a concubine that if president Michael Sata dies before replacing Guy Scott as vice-president, then there will be a crisis in PF.
PF Edgar Lungu, the only one who politicised the mass said the PF is not for sale to the highest bidder.In an apparent reference to his competitors such as former Defence Minister Geoffrey Bwalya Mwamba (GBM) and Sports Minister Chishimba Kambwili and others whom he has accused of bribing delegates, Lungu said there was need to continue with the vision of late president Sata under the selfless leadership.Lungu, who even played to people's emotions by pretending to breakdown towards the end of the speech, said Sata was his mentor. Apparently, Sata's son Mulenga Sata who is also Lusaka Mayor demonstrated true leadership by remaining composed throughout his speech despite losing his father.Lungu who was clearly playing to the gallery of hired cheering cadres seized the opportunity to launch his bid as PF presidential candidate by playing the pro-poor game.The burial of Sata opens up the succession struggle within PF
Meanwhile acting President Guy Scott said his job was to manage the succession race and the Zambian people will choose the next president.Dr Scott who was given a standing ovation remained composed through out his speech in which he eulogised Sata as a non racial and non tribal leader who taught him politics. Zimbabwean president Robbert Mugabe who also spoke took the opportunity to again attack the colonial imperialists who was corrupting Africans in Zimbabwe and other countries.Mugabe, who is the only president to have visited Mr. Sata as a sitting president, said Zambia and Zimbabwe were siamese twins.Other leaders that came included Kenya's Uhuru Kenyatta, Deputy South Africa president Cyrila Ramaphosa among others.Opposition leaders Hakainde Hichilema of the UPND and MMD's Nevers Mumba were also present.Former presidents Kenneth Kaunda and Rupiah Banda were also among the invited guests.
Mr Sata said his father shared a vision for Zambia with many leaders including him and hoped his successor would be relevant to taht vision.