In a hotly contested election on December 2, 2016, long-serving Gambian President Yahya Jammeh lost to a newcomer, Adama Barrow. What came as a sweet surprise to Gambians and the entire African continent was how game Jammeh was; conceding defeat. That was least expected after he swore he would rule for the next one billion years. Gambia's election outcome is encouraging, proof that democracy is spreading across the continent. Rather than violence, disaffected people are choosing the ballot to express their disgust at their leader's ineptitude and unwillingness to change their fortunes
The strong-man syndrome is slowly losing its grip on African politics. Angolan President José Eduardo dos Santos has also indicated he will be leaving office before next year's elections in Angola. Ghana looks likely to dump John Mahama after one term in office for a less-than-impressive stint. Former Nigerian President Goodluck Jonathan was voted out of office in the April 2015 elections for his poor showing. That is the genius of democracy. One must deliver or ship out. It is therefore up to those African leaders keen to hang on to power when they have nothing to offer to manage their exit honourably and secure their leadership. Ultimately, an end will come one day.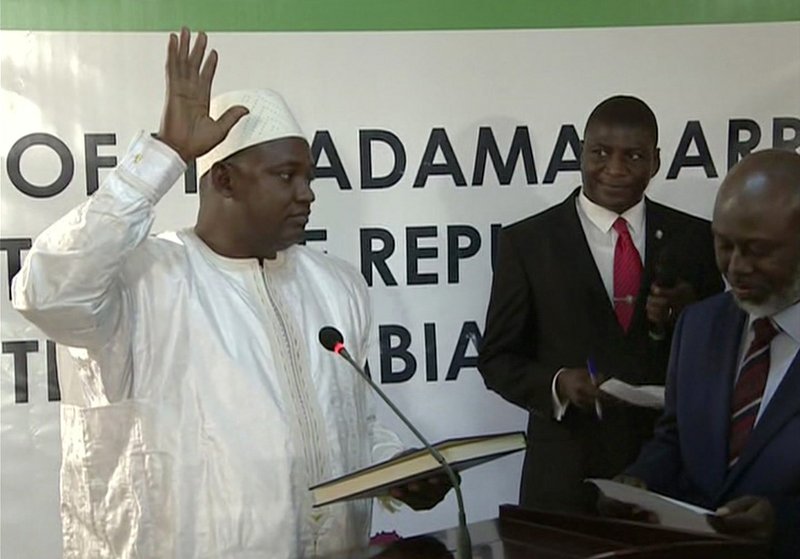 A West African regional force charged into neighboring Gambia late Thursday to support the country's newly inaugurated president, while longtime ruler Yahya Jammeh showed no sign of stepping down.The troops moved in shortly after Adama Barrow was inaugurated at Gambia's embassy in neighboring Senegal, after a final effort at diplomatic talks with Jammeh failed to secure his departure. His mandate expired at midnight.
Senegalese military spokesman Col. Abdoul Ndiaye confirmed to The Associated Press that the first regional troops had crossed into Gambia and were on their way to the capital, Banjul.I
n his inaugural speech, which took place under heavy security, Barrow called on Jammeh to respect the will of the people and step aside. The new president also called on Gambia's armed forces to remain in their barracks as the regional military intervention got underway.
Shortly after the inauguration, the U.N. Security Council unanimously approved a resolution expressing "full support" to Barrow, calling on Jammeh to step down and condemning his attempts to usurp power. The resolution also backed the regional efforts to get Jammeh to respect the election results.
Outside Gambia's embassy in Dakar, Baal Jaabang held up a freshly framed portrait of Barrow, already printed with the words: "His Excellency Adama Barrow, President of the Republic of Gambia."
"I'm extremely delighted, so wonderfully happy today," he said. "But now the situation risks moving into fighting. No Gambian — in the diaspora or back home — wants our country to face fighting."
Barrow had come to Senegal last week at the urging of West African mediators, who had feared for his safety amid the political crisis.
He arrived at the embassy to cheers of joy from hundreds of Gambians who had gathered, with national flags, for a glimpse of the new president.
"Our national flag will now fly high among the most democratic nations of the world," Barrow said after the ceremony.
Barrow was declared the winner of the Dec. 1 election and at first was congratulated by Jammeh in a phone call aired on state television. But once it was suggested that Jammeh could face criminal charges linked to human rights abuses during his long rule, he backtracked and challenged the vote in court, alleging irregularities.
In recent days, Jammeh has tried to stay in power by declaring a state of emergency, while lawmakers voted to extend his mandate by three months.
Jammeh on Thursday remained at his official residence and intended to stay there, said an official close to the administration who was not authorized to speak to reporters. If the regional force is going to arrest Jammeh, it will have to be there, the official said.
Africa Need strong institution not strong man.
President Obama said during

his address at the African Union,

"There's a lot that I'd like to do to keep America moving. But the law is the law, and no person is above the law, not even the president."

This sentence, uttered during his speech to the African Union , summarizes President Obama's message to Africa when it comes to

the need for strong institutions.

. In his speech he highlighted that the first president of the United States, George Washington (1789-1797), refused to run for a third term in 1798—during the nascent years of the republic—despite popular acclaim and instead stepped down to ensure there was peaceful transition and the principles of democracy upheld.

South Africa's Nelson Mandela

did the same thing.
Read Obama speeech at African Union
https://www.whitehouse.gov/the-press-office/2015/07/28/remarks-president-obama-people-africa