On 10 December 1963, the United Kingdom granted full independence to Zanzibar after the Zanzibar National Party (ZNP) and Zanzibar and Pemba People's Party won the elections. The Sultan was a constitutional monarch.[2] Initial elections gave government control to the ZNP. Karume was willing to work within the electoral framework of the new government, and actually informed a British police officer of the revolutionary plot set to take place in January.
Karume was not in Zanzibar on 12 January 1964 – the night of the revolution – and was instead on the African mainland. The instigator of the rebellion was a previously unknown Ugandan, John Okello. The revolution was violent, short, and the revolutionaries prevailed. Thousands of Zanzibaris, mostly Zanzibari Arabs & Indians, were murdered, with relatively few casualties on the revolutionary side.
Thirty-two days after the British withdrew from the island nation of Zanzibar the revolutionary African movement seized power on January 12, 1964, and named Abeid Karume, a former merchant seaman, its new ruler. The last Sultan of Zanzibar, Jamshid bin Abdullah, was deposed in the process.
Karume consolidated the various political factions into his Afro-Shirazi Party shortly before Zanzibar merged with its neighbor Tanganyika to form the new nation of Tanzania.Karume continued to rule the semi-autonomous Zanzibar as he had before, and was rapidly becoming an embarrassment in foreign circles. His decree that Arab women should marry only African men struck observers as the rambling of an unbalanced mind. His tyranny was remarkable for its bloody
In Picture above Captain Humud .In 8 cover story on Political Assassinations in Africa AFRICA EVENTS (August 1992) went into some detail about the assassination (while he was playing dominos) of the late President Karume of Zanzibar on April 7, 1972 . 'By no means' said the article 'was the assassin, Lt Humud Muhammed Humud , a lone player. He had accomplices at the scene who were subsequently either gunned down by the security forces or committed suicide. Humud died on the spot in circumstances that are still not clear … the Government (had) insisted that the assassination was part of a plot to overthrow it. But Humud had had a personal motive … his father had been arrested a few months after the Zanzibar Revolution of 1964 and, while Humud was training later in the Soviet Union he had been told that his father had been executed … he had vowed revenge '. But there had been political factors also. By 1972 the revolution hed degenerated into a tragic farce – gross abuses of human rights, political killings, a curious system of people's courts, forced inter-marriages , a declaration by Karume that there would be no elections for fifty years …. Karume had become an embarrassment to Nyerere and a danger to the future of the Union .. . ' . The blood of Humud and his colleagues had not been shed in vain, the article concluded, as it had enabled Nyerere to subsequently consolidate the Union through the joining together of the TANU and CCM parties, the neutralisetion of those who considered themselves to be Karume's legitimate heirs and the subsequent far-reaching constitutional changes and liberalisation which had followed under Zanzibar Presidents Jumbe and Mwinyi.
oppression and constant political purges.

Willing Assassins
V
owing to avenge the death of his father who had died in one of Karume's jails, Humud Mohammad Hamud recruited willing assassins from members of the military who shared his hatred for the ruler. Shortly before dusk on April 7, 1972, Humud, Captain Ahmada Mohammad Ali and two soldiers machine gunned the headquarters of the Afro-Shirazi Party where Sheik Karume was in conference.Humud was killed in the return fire, but not before he exacted a heavy toll. Karume, Secretary-General Sheik Komboa, and one of the party's founders, Ibrahim Sadala, were all killed. Radio Zanzibar issued a statement assuring the people that the killers had been identified and captured. There followed a general crackdown against island insurgents and a sweeping investigation.
Political Destiny
Without the fanatical dictator, the nation struggled with its political destiny, which remained tenuous in the following months.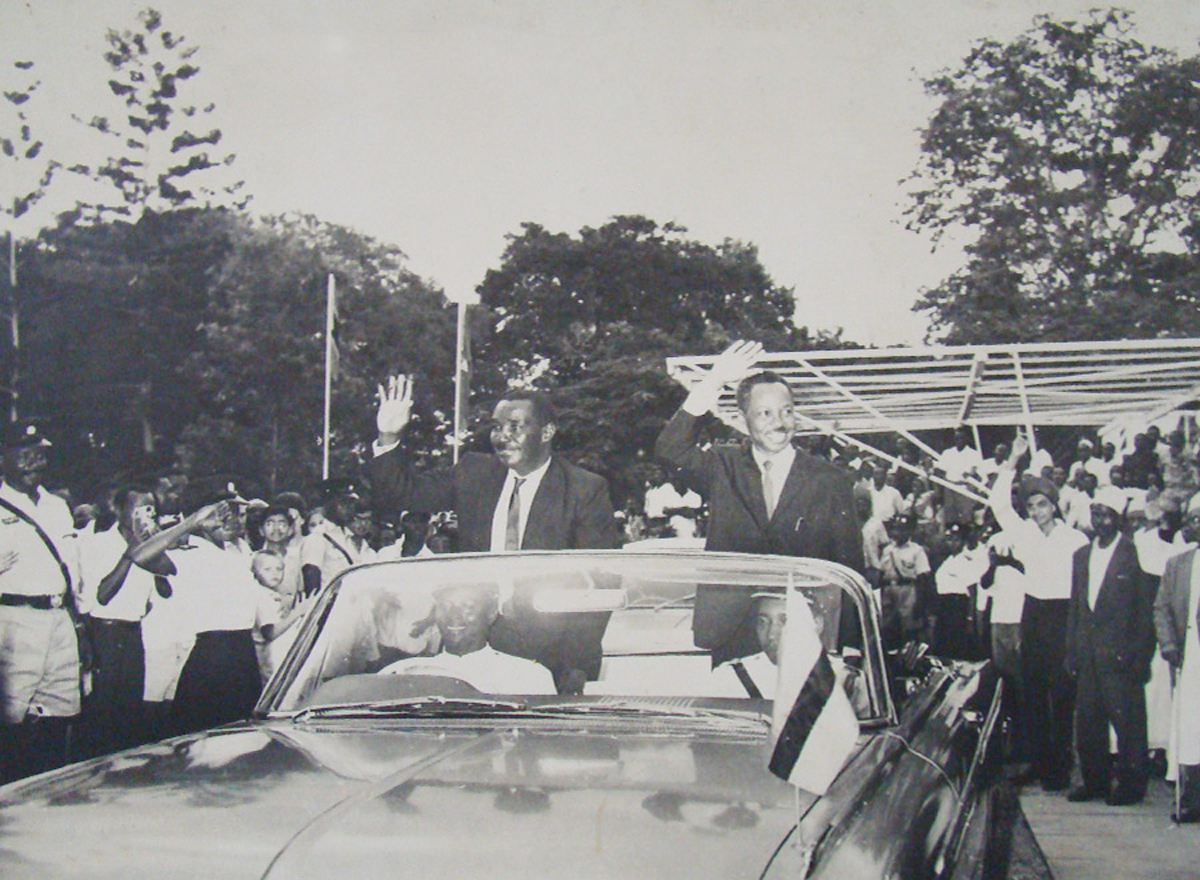 DAR ES SALAAM, Tanzania, April 30, 1972 —Informed sources re port that the assassination of Zanzibar's dictator was carried out by a young army lieuten ant whose father had been a famous political assassin him self.
The main gunman in the slaying was identified by the sources as Lieut. Humud Mo hammed Humud. The officer reportedly killed Sheik Abeid Amani Karume on April 7, ap parently in revenge after having learned that his father had been tortured and killed in a Zanzi bar prison.
Although these reports point to a grudge killing and not a political plot, Sheik Karume's associates seem determined to link the assassination to mem bers of a strongly left‐wing political faction on the Indian Ocean island. Many men have been arrested on Zanzibar and mainland Tanzania, which is loosely linked with Zanzibar in the United Republic of Tan zania.
Sheik Karume, who had re cently changed his title from President of Zanzibar to Chair man of the Revolutionary Council, was at the head quarters of his Afro‐Shirazi party when gunmen burst into the room and killed him with submachine guns.
Assassins Reportedly Killed
The sources said that Lieu tenant Humud, 26 years old, had been a member of the Arab ethnic minority that had mono polized power on Zanzibar before the black majority seized power in a revolution on Jan. 12, 1964. Lieutenant Humud and four other assassins were later killed, reports said.
Sheik Karume's death re sulted from the long record of injustice, repression and cruelty that has marked Zanzibar his tory since the island was a 19th century slave market.
In 1955 when Zanzibar was a British protectorate there was a political dispute in which the Arab aristocracy ordered a boy cott of the island's legislative council. When one member, Sheik Ahmed el‐Mugheiry, re turned to the council, he was seriously wounded on the street. He was taken to a hos pital. Another robed Arab, mak ing sounds of lamentation, ob tained entry and bending over the wounded man, plunged a dagger into him, killing him.
The killer, Lieutenant Hu mud's father, Mohammed Hu mud, was sentenced to death, but the ruling sultan commuted his sentence. The elder Humud was released from prison by Sheik Karume in 1964 after the revolution but was arrested on suspicion of political plotting that October.
Sheik Karume later abol lieve strongly in courts or trials, and it was difficult to learn the fate of such prisoners unless, as sometimes happened, he announced their execution or released them. Friends said that Lieut. Humud had long suspected that his father was dead but was not sure and that he had become moody.
Sheik Karume later "abol ished prisons on Zanzibar and released several hundred pris oners. Nineteen men arrested last year on charges of allegedly plotting a revolution were sen tenced to work as cowherds for periods of three to 10 years. Released prisoners, the reports said, informed Lieutenant Humud that his father had been tortured and executed in prison.
Another member of the group of assassins, the reports said, was Capt. Ahmada Mohammed Ali. When the 19 alleged plot ters were publicly paraded last May, the officer, then a lieu tenant, made a speech accusing them of having suggested to him that he recruit members of the army for a plot against Sheik Karume. The officer was promoted to captain after the speech, but according to one account he said privately that he had lied and resented his role.
All the assassins have been reported killed in gunfights with security forces, but many other men have been picked up. Almost all of them seem to be members or adherents of the former Umma party, which merged with Sheik Karume's Afro‐Shirazi party in 1964.
Among those arrested in mainland Tanzania was Abdul Rahman Mohammed Babu, founder of the Umma party and a onetime associate of Sheik Karume on Zanzibar's Revolu tionary Council. Mr. Babu's Umma followers include a num ber of men who have received training in Cuba, the Soviet Union and China. They were known to have criticized Sheik Karume and his faction on grounds that Sheik Karume was not a real "Socialist."
"In fact," said one source, "Karma was an African tradi tionalist and feudalist who adopted many of the attitudes of the Arab sultans he and his black followers overthrew." The Russians and East Ger mans have lost any influence they once had on Zanzibar, and the Chinese seem as baffled as anyone else by the Revolu tionary Council's arbitrary and sometimes chaotic administra tive methods, sources said Missions from the three coun tries had moved into Zanzibar after the 1964 revolution.
Read more here